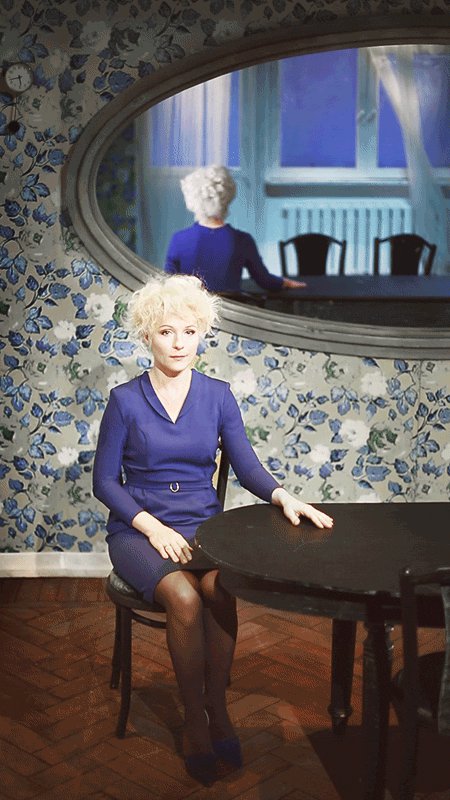 Polina Kutepova
Distinguished Artist of Russia
Together with her twin sister
Ksenia
, Polina has been studying theater and film art since childhood. During that time, had a number of episodic movie parts.
In 1988, Polina was accepted to the Russian Theater Academy's department of stage acting and directing, to Pyotr Fomenko's workshop. She's been with the theater since its inception.
Awards
Laureate of the Special Prize of the Drama and Puppet Theater Jury for her part in the female ensemble of "The Main Thing" production, 2008
Nominated for the Golden Mask Prize in the "Drama / Best Actress" category for her roles of Frog Princess, mother, Tusya, and Lika in "The Main Thing" production, 2008
Winner of the Golden Mask Prize in the "Drama / Best Actress" category for her role of Molly Bloom, "Ulysses" production, 2010
Winner of Komsomolskaya Pravda Prize for Actress of the Year in 1995
Winner of the Special Prize for the Best Young Actress at Contact-96 Theater Festival in Poland for her role in "Tanya-Tanya" production
Vera Kholodnaya Prize "Both a goddess, and an inspiration," 1996
Winner of the Idol / Kumir Prize for her role of Verochka in "A Month in the Country" production, 1997
Aries-96 Best Movie Actress prize
Prize of Gatchina Film Festival for the "Heads or Tails?" film, 1996
Aries-99 Best Movie Actress prize
Female of the Year Prize in the "Astonishment" category for her role in "Egyptian Nights" production, 2002
Chaika Theater Prize in the "Synchronized swimming" category as part of the cast of "Three Sisters" production, 2004
Youth Development Grant of the Triumph Prize, 2004
Crystal Turandot Prize for Best Actress for her role in "Three Sisters" production, 2005
Moscow Prize for Literature and Arts in "Theater Arts" category for one of the principal roles in "Three Sisters" production, 2007
Winner of the Stanislavsky International Theater Prize (season 2006-2007) in the "Acting Technique/Female Roles" category for her recent roles (Lady Utterwood in "Heartbreak House", Masha in "Three Sisters", and several roles in "The Main Thing"), 2007
Commemorative medal of Moscow Art Theater issued in honour of 150th anniversary of Chekhov and given to the prominent artists and actors for their personal contribution to development of arts, 2010
Golden Eagle Prize for Best TV Actress for her role in miniseries "Pelagia and the White Bulldog", 2010
Stanislav and Andrei Rostotsky Prize at the 19th Window to Europe Film Festival for her role in "House of Wind", 2011
Polina does a lot of films, and her filmography has over 40 titles. Among her principal roles are the parts in the films by the prominent Russian director Georgy Danelia — «
Nastya
» (1994) and «
Heads and Tails
» (1995) — as well as the miniseries «
Long-haul Truckers
» (2001), «
Penal Battalion
» (2004), «
Pelagia and the White Bulldog
» (2009). She was also a part of Jean-Luc Goddard's 1993 film «
Les Enfants jouent à la Russie
».
Performances
Past
Amphitryon —

,

The Gift —
Ulysses —

The Moth —
A Puppet Show —

,