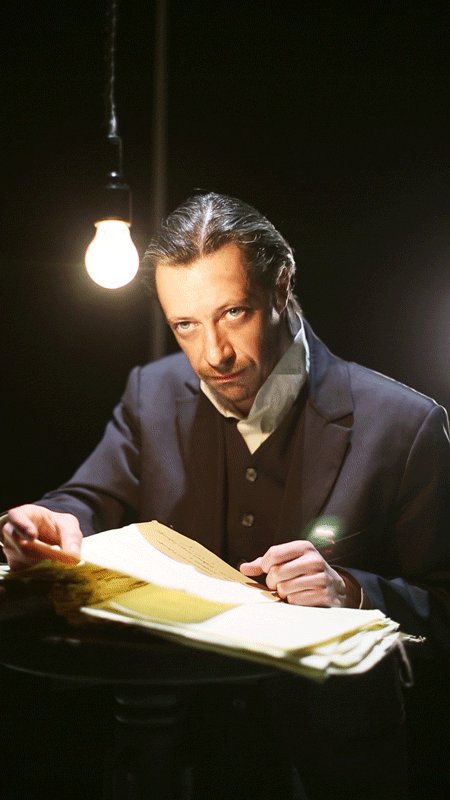 Kirill Pirogov
Distinguished Artist of Russia
Kirill was born in Tehran, Iran. As a child, he took classes at the theater studio supervised by S. Kazarnovsky, and graduated from a musical school. Completed his studies at the Shchukin Theater School (course taught by V. Ivanov) in 1994. In 1993, played the role of Quentin at Fomenko Workshop's "The Sound and the Fury" production directed by Sergei Zhenovach.
Kirill was the first actor of Fomenko Workshop Theater who came to the theater "from the outside," without studying with Pyotr Fomenko at the Russian Theater Academy.
Kirill is a popular film actor. He became widely known to the public after his parts in Georgy Danelia's «
Heads and Tails
» film (1995) and the principal Russian blockbuster of 2000, Alexei Balabanov's «
Brother 2
». He has composed musical scores to several Russian films.
Awards
Nika-95 Prize for the Best Film Debut for the "Heads and Tails" film, 1995
Movie critics' diploma for the Best Debut of 1995
Movie Critics Award for the Best Acting Debut at Gatchina Film Festival, for the "Heads and Tails" film, 1996
Best Actor Prize at the Spolokhi Fourth Festival of Television Films, 2003
Laureate of Chaika Theater Prize in the "Synchronized swimming" category for the cast of "Three Sisters" production, 2004
Laureate of the Youth Triumph Prize, 2004
Laureate of Chaika Theater Prize in the "Main protagonist" category for the role of Berange in "Rhinoceros" production, 2006
Nominated as the best composer for his music to "Piter FM" movie for the Russian National Film Prize Golden Eagle-2006, national prize of the Russian film critics White Elephant-2007, and Nika-2007 Film Prize
Moscow Prize in the sphere of literature and art in the "Theater arts" nomination for his role in "Three Sisters" production, 2007
Golden Knight Festival prize in "Theater / Large Scale Production" and "Best Actor" nominations for his work in "Rhinoceros" production, 2008
Laureate of the Stanislavsky Award in the "Stagecraft" ("Best Actor") nomination, 2009
Theater prize of Moskovsky Komsomolets newspaper for Best Supporting Actor for his roles in the "Triptych" production, 2010
Commemorative medal of Moscow Art Theater issued in honour of 150th anniversary of Chekhov and given to the prominent artists and actors for their personal contribution to development of arts, 2010
Best Actor Prize named after Mikhail Ulyanov at the 10th Moscow Festival of Russian Film "Moscow Premiere" for his portrayal of Chekhov in "The Admirer" film, 2012
Crystal Turandot Prize as Best Actor and author of "A Theatrical Novel" stage productiom, 2012
Theater prize of Moskovsky Komsomolets newspaper for the graduation play "Kitchen" of the Shchukin Theater School, 2014
Upcoming Performances
January, 27, 19:00
New stage, Large Hall
February, 4, 19:00
New stage, Large Hall
February, 25, 19:00
New stage, Large Hall