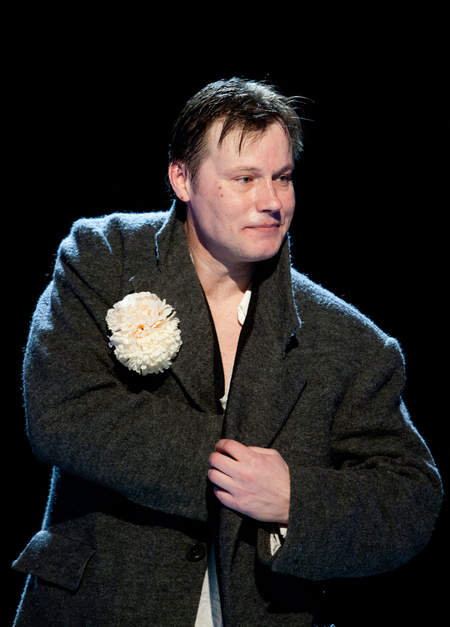 Igor Gordin
Distinguished Artist of Russia


In 1988 Gordin finished the Leningrad Polytechnic College and in 1993 the Russian Theatre Academy (acting class of I. Sudakova).

As of 1993 Gordin is one of the leading actors of the Moscow Youth Theatre where he appeared in Ivanov and Others after Chekhov (Borkin); Good Bye America after Samuel Marshak (several leading parts); Henrietta Yanovskaya's Jacques Offenbach, Love and Bla-Bla-Bla (Popolani, Baron's Alchemist); Alexander Ostrovsky's The Storm (Tikhon); Agatha Christie's Witness for the Prosecution (Leonard Woul); Execution of the Decembrists (Berkopf); Pushkin. Duel. Death (Sologub), Anton Chekhov's Lady with a Dog (Gurov); Anouilh's The Bear; Rostand's The Romantics; The Phantom Gentleman after Calderon (Don Carlos); The Meek One after Dostoyevsky (He).

In other theatres Gordin appeared as Petya Trofimov in The Cherry Orchard (director Eimuntas Nyakroshus, International Stanislavsky Foundation, Meno Fortas Theatre); Aleco in Happy Paths (director Z. Buzalkovskaya, Yelena Kamburova's Theatre of Music and Poetry); Potapov in Sorokin's Capital (director E. Boyakov, Practica Theatre); Ilyin in Volodin's The Five Evenings (director V. Ryzhakov, Peter Fomenko's Workshop).

For the role of Gurov in Lady with a Dog Gordin received the Seagull Award and "Moscow Premiere" Award of the International Stanislavsky Foundation. In 2011 he received the Golden Mask Award in "Best Male Part" nomination for the role in The Meek One.

Gordin's filmography includes A. Proshkin's Trio; V. Hotinenko's The Fall of the Empire; I. Makarov's Heavenly Life; M. Kazakov's The Charm of the Evil; A. Burtsev's The Schedule of Fortunes, F. Shultes's and A. Eshpai's The Possessed; A. Karpykov's Half-Way to the Heart; V. Ahadov's The Adventurist, A. Rezenkov's Kromov, A. Eshpai's Children of the Arbat, Three Dots, The Event, Ivan the Terrible; S. Libins's and I. Shchegolev's Crime Shall Be Solved 2; M. Gorobets's The Seventh Victim; A. Kott's The Diamonds Hunters.
Varvara Egiptseva

Igor Gordin